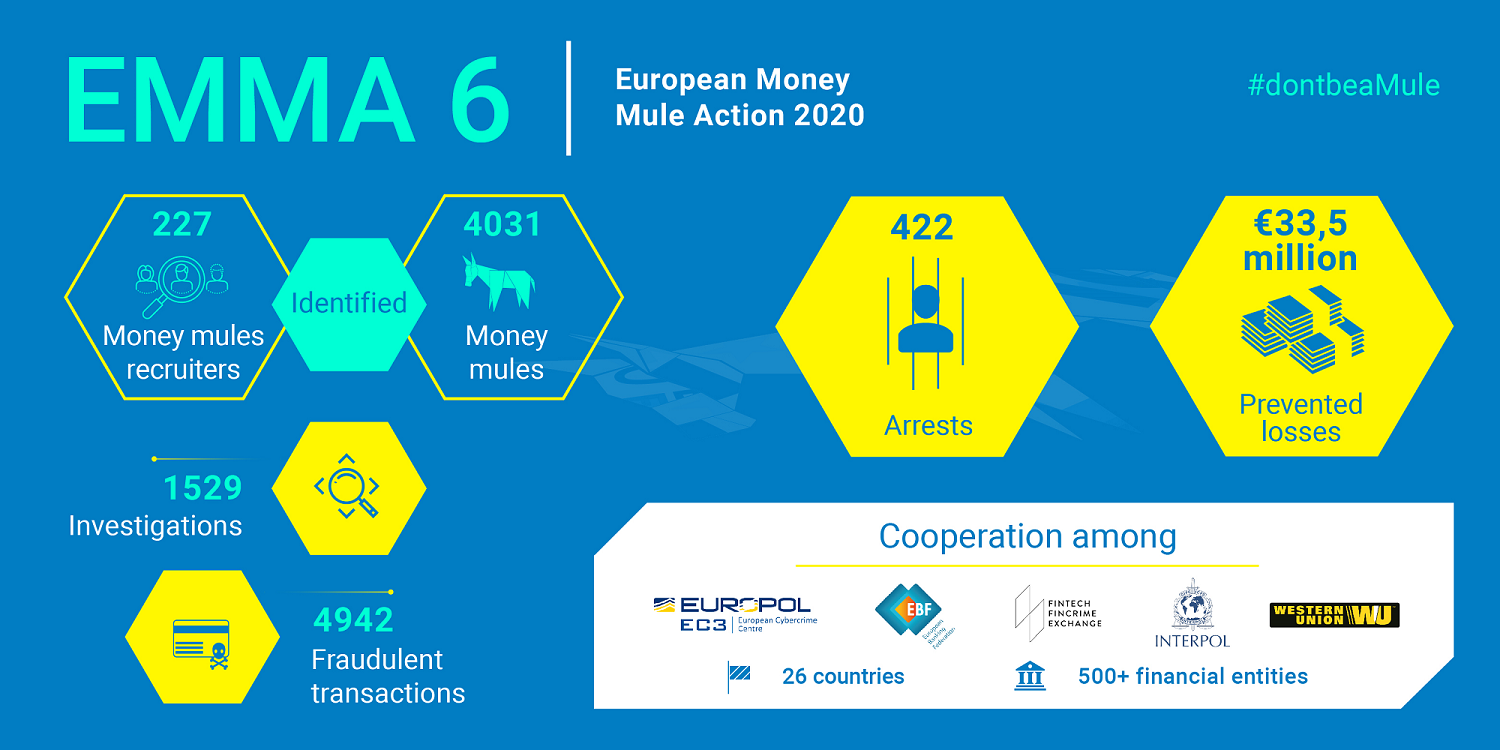 Today, law enforcement authorities from 26 countries and Europol announced the results of the European Money Mule Action EMMA 6, a worldwide operation against money mule schemes. During the span of the operation, 1,529 criminal investigations were initiated. With the support of the private sector including more than 500 banks and financial institutions, 4,942 fraudulent money mule transactions were identified, preventing a total loss estimated at €33.5 million.
Between September and November 2020, EMMA 6 was carried out for the sixth consecutive year with the support of the European Banking Federation (EBF), FinTech FinCrime Exchange, INTERPOL and Western Union. As a result, 4,031 money mules were identified alongside 227 money mule recruiters, and 422 individuals were arrested worldwide.
Money mules are individuals who, often unwittingly, have been recruited by criminal organisations as money laundering agents. Mule accounts help conceal illicit funds and their origin.
"Successful operations like this prove how important it is for banks and authorities to work together in stopping money laundering and terrorist financing. Cooperation should be made even easier on the day-to-day level", comments Niko Saxholm, head of security and loss prevention at Finance Finland (FFI).
Current legislation prevents banks from exchanging information with other banks and authorities when it comes to suspected mule accounts or otherwise suspicious transactions. Each bank only sees a narrow part of the bigger picture. Information exchange would provide an overall view of where, and to whom, the suspicious funds are accumulating. Permitting banks to alert other banks of their suspicions would enable faster reaction to illegal money flows.
"In these crimes, the window of opportunity is sometimes measured in minutes. The funds are quickly hidden beyond reach."
Term originally coined in drug trade
This week, Europol and EU law enforcement authorities together with international partners and financial institutions will launch the #DontBeaMule campaign to raise awareness among the public on the risks of money mule schemes.
The roots of the term money mule go back to drug trade, where couriers who smuggle drugs on or even inside their own body are called mules. In sales fraud, for example, the mule receives the funds on their personal account and then passes them on to the perpetrator of the fraud.
"Acting as a mule account constitutes money laundering, which is governed by criminal law. The individual sums can be relatively small but before you know it, you're already in the territory of aggravated money laundering", Saxholm points out.
Sometimes the owner of a mule account is not even aware they are taken advantage of. The criminals may have gained access to the account holder's information, for example with a phishing message. The use of cryptocurrencies by money mules is also on the rise. If you suspect your bank account may have fallen into the wrong hands, you must notify your bank and your national police immediately.
#DontBeaMule public awareness campaign
Still have questions?
|
Contact FFI experts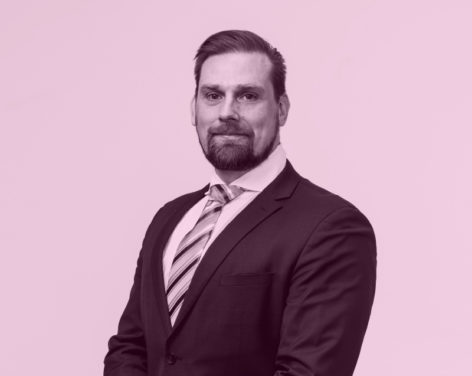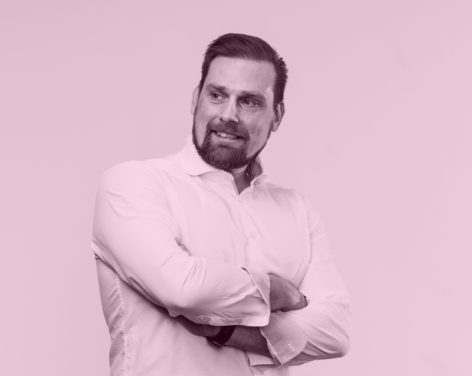 Infrastructure and Security
Head of Security and Loss Prevention