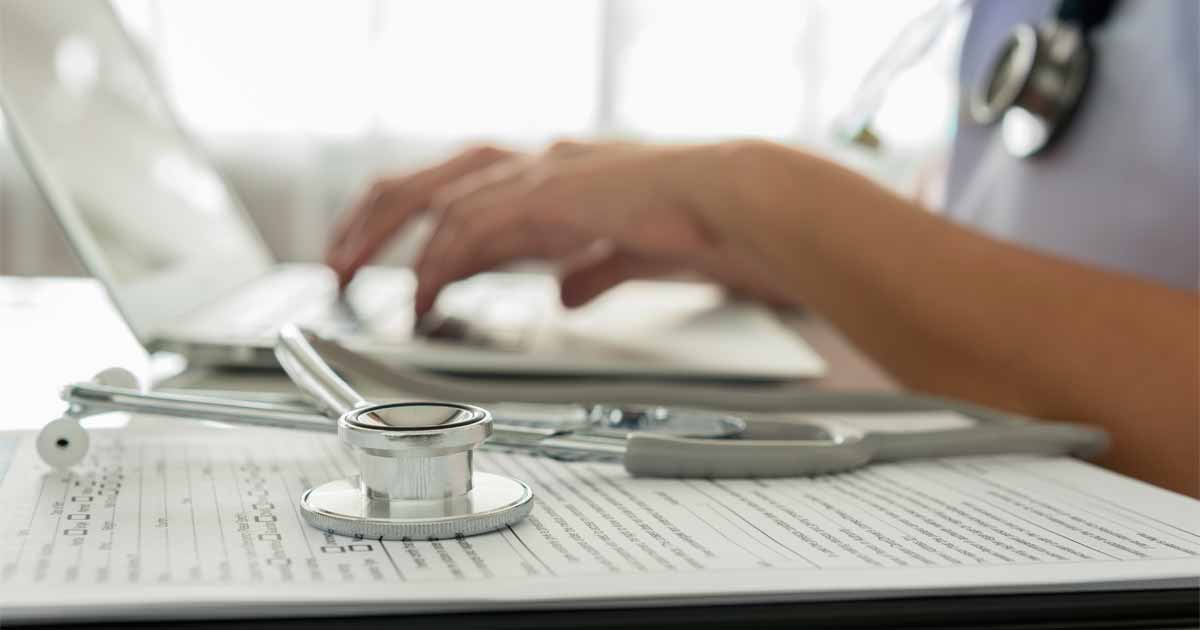 The digitalisation of healthcare-related documents has gone slowly but steadily forward in Finland over the past four years.
Using electronic documents instead of paper speeds up processing, facilitates the use of existing information, reduces mailing and office visits, and lowers carbon emissions.
FFI, Kela, Traficom and the Ministry of Social Affairs and Health are working on the digitalisation of healthcare documents as a joint commitment to sustainable development. Their aim is to reduce the carbon footprint, increase resource efficiency, and serve customers more equally.
The Society's Commitment to Sustainable Development is the Finnish implementation of the UN Agenda 2030, a set of global sustainability goals for all UN Member States. The commitments aim for wise, sustainable use of resources and smaller carbon footprints. Various actors in the society make commitments on the basis of their individual specialisations.
Despite the considerable progress in digitalisation, hundreds of thousands of paper documents are still transmitted between Finnish organisations every year. Paper-based information creates delays and requires additional work at many different stages. For example, digitalising the medical certificate required for a driver's license saves on average one hour of travel for the customer and 10 minutes of processing per application for Traficom.
Finance Finland (FFI), the Social Insurance Institution Kela, the Finnish Transport and Communications Agency Traficom, and the Ministry of Social Affairs and Health convened in 2017 to find ways to digitalise healthcare documents. They selected four document types and monitored their progress in their organisations for five years. During these five years, the digitalisation of documents reduced annual CO2 emissions by approximately 450 tonnes.
"This may not be a world-saving amount, but the important part is changing behaviours and service structures all the way to the end user. The environmental benefits of digitalisation are usually permanent, because very few people want to go back to mailing paper documents", says Kristiina Siikala, development director at FFI.
Electronic documents also make work easier for insurance companies
Digitalising healthcare documents is convenient for everyone involved. The number of health records and invoices sent to insurance companies in Finland ranges between 200,000 and ‍300,000 each year. The processing of these documents is much more efficient in electronic format, which also reduces errors and improves the management of the customer's care.
Finnish pension insurers aim to digitalise the medical statement B, which assesses a person's state of health and working capacity. Approximately 23,500 disability pension applications are made each year.
A more extensive digitalisation of service processes is slowed down by the pace of the required legislative changes. The parties to the healthcare records project did not meet all the targets initially set for the 5-year monitoring period.
Anna Kärkkäinen, senior specialist at the Ministry of Social Affairs and Health, says the legislation regarding digital customer data in social and healthcare services is currently being reviewed, and a proposal for a new act is waiting for the parliament's decision. If approved, the new act will improve possibilities to transfer customer data electronically.
Some of FFI's goals are also waiting for legislative processes. One such next step is the digitalisation of health records required by non-life insurers.
"Once the health records can be digitalised, it will make processing them much quicker and easier, reducing the workload of non-life insurers and care providers. The records and invoices sent by mail total in the hundreds of thousands each year", notes Timo Tuominen, head of insurance digitalisation at FFI.
In Kela, the numbers of electronic medical statement A grew considerably during the reporting period and are still growing. Product owner Kaisa Timonen and CSR specialist Petra Elomaa report that 15.7% of these statements were processed electronically in April 2021. The medical statement A is required when applying for short-term sickness allowance.
"Electronic processing improved the entire processing time of a customer's case also thanks to reduced requests for further information regarding the statements", says Tuominen.
"Online service tends to be more convenient for the customer, and it also removes their need to travel to the service point in person", Elomaa continues.
Traficom aimed for at least a 50% level in digital service and a reduction of 100,000 documents annually. Although the proportion of digital services had reached only 33% at the end of 2020, the digitalisation effort still created substantial savings for Traficom – and also for its customers through cheaper services, notes Johanna Simkin, development director at Traficom.
"This is a very good position to move forward from, and it is clear that this work has a significant impact. Even the partial digitalisation of just four document types already reduced the CO2 footprint by 230 tonnes while improving service quality. That is pretty amazing", Simkin rejoices.
Further information
Finance Finland
Timo Tuominen, Head of Insurance Digitalisation, +358 20 793 4218
Kristiina Siikala, Development Director, +358 20 793 4273
Kela
Kaisa Timonen, Product Owner, +358 20 634 0975
Petra Elomaa, CSR Specialist, +358 20 634 1421
Traficom
Johanna Simkin, Development Director, +358 29 534 5265
Ministry of Social Affairs and Health
Anna Kärkkäinen, Senior Specialist, +358 29 51 63702