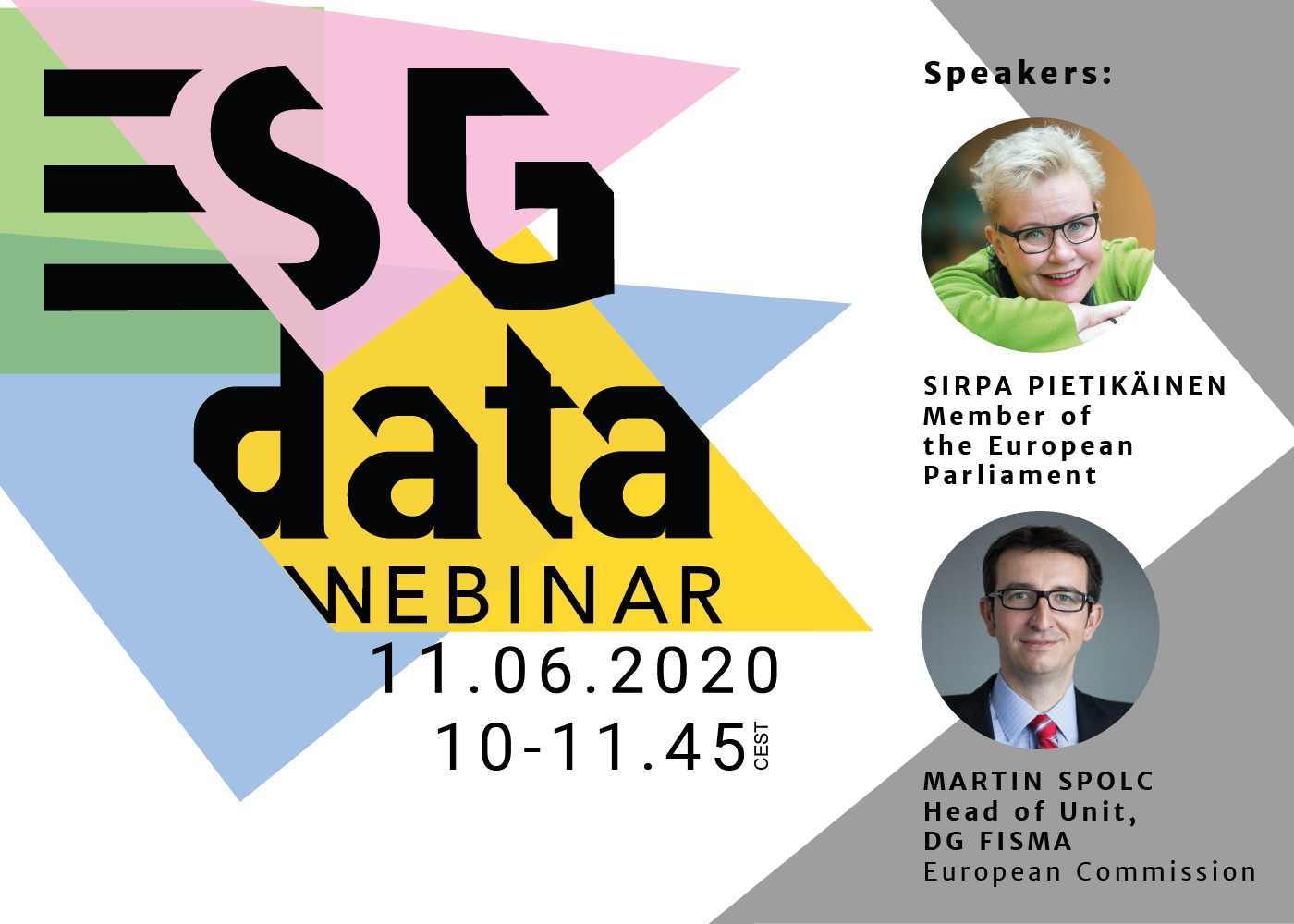 Webinar on 11th June 2020, 10–11.45 CEST
Following the awareness of environmental limits to human actions, and EU's sustainable finance developments, attention is now directed to the need for reliable and comparable ESG data as the key to driving forward the sustainable transition. This need is apparent in the financial sector, but also of key importance to other stakeholders in the society, such as corporates, policymakers and the academic community.
MEP Sirpa Pietikäinen hosts a webinar with Hanken School of Economics, Finance Finland, Finance Denmark and Finance Norway to discuss the current availability of ESG data and ideas to make it more accessible and usable for e.g. financers, policy makers, researchers and many more.
Our keynote speaker is Mr Martin Spolc, Head of Unit DG FISMA, European Commission.
Join us for this webinar on Thursday 11th June.
---
Agenda
9.50 Webinar Platform opens. Please be on time!
10.00–10.30 Introduction
Welcoming words by Othmar Lehner, Director of the Hanken Centre of Accounting, Finance and Governance, Hanken School of Economics
Keynotes:
MEP Sirpa Pietikäinen
Martin Spolc, Head of Unit, DG FISMA, European Commission
Lars Müller, Policy Officer, DG ENV, European Commission
10.30–10.50 Presentation of the ESG data register
Kristiina Vares-Wartiovaara, Portfolio Manager, Head of ESG, OP Financial Group
Hanna Silvola, Associate Professor, Hanken School of Economics
10.50–11.40 Discussion
First group of respondents
Olivier Boutellis-Taft, CEO, Accountancy Europe
Rasmus Nikolaj Due Skov, Director, Head of Global Sustainability, Ørsted
Aleksandra Palinska, Senior Regulatory Policy Advisor, Efama
Sinne Conan, Director of European Affairs, Finance Denmark
Esko Kivisaari, Deputy Managing Director, Finance Finland
'Open floor' Q&A

11.40–11.45 Closing remarks by MEP Sirpa Pietikäinen

---
The seminar is co-organised by:

Supporting organisations: