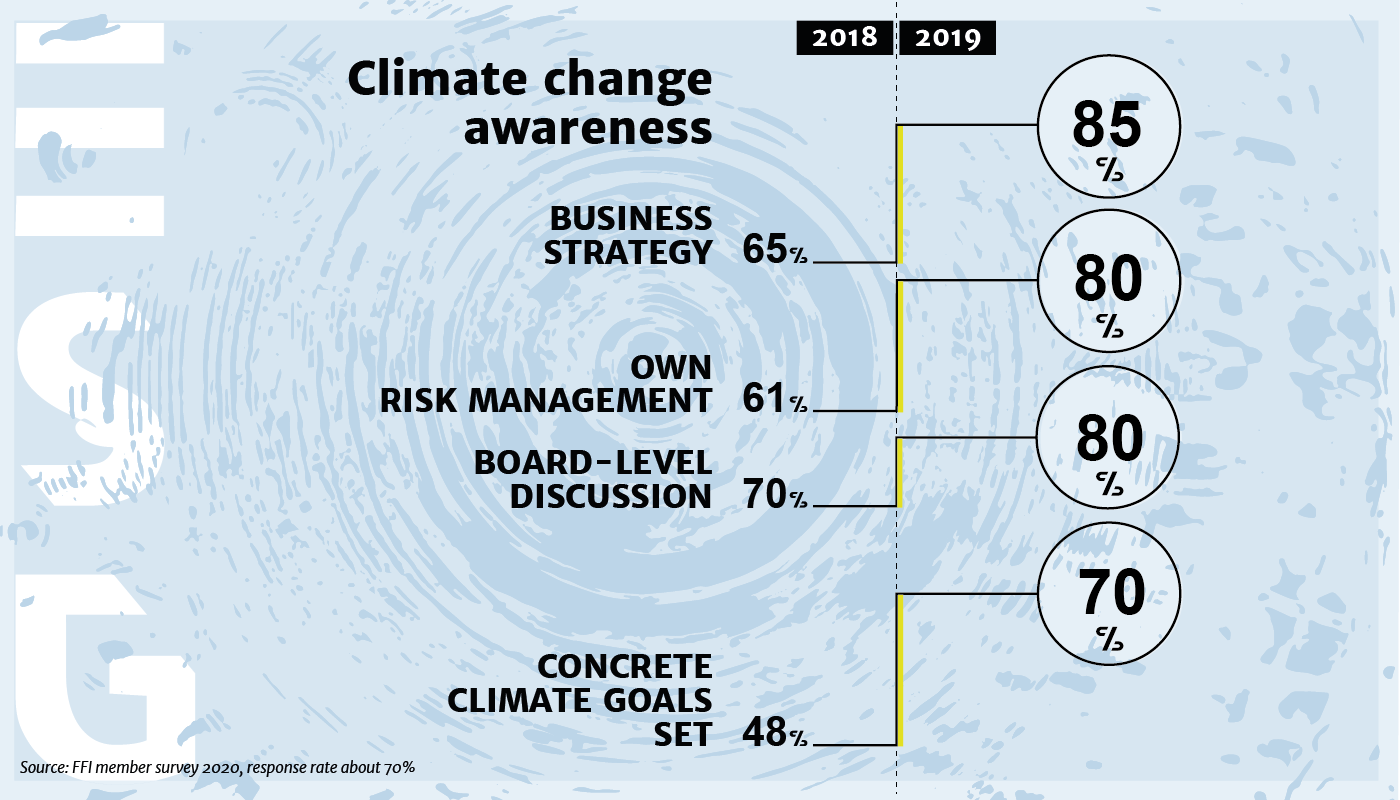 Finnish financial sector companies have taken big leaps forward in their climate action. According to a member survey by Finance Finland (FFI), 95% of the respondent member companies take climate change into account in their investments. Nearly 90% take climate change into account also in their business operations.
"Modern finance is rapidly turning greener and more sustainable. Adapting to climate change requires companies to implement new policies and climate risk management. Climate change mitigation impacts the future of all investees and objects of funding", said FFI's Managing Director Piia-Noora Kauppi in the webinar on green finance collaboratively organised on 23 September by FFI and Finland's Sustainable Investment Forum Finsif.
The FFI Board ruled in 2017 that the Finnish financial sector endorses the goals of the Paris Agreement to limit global warming. This is the foundation of the sector's sustainable development commitment, with which the sector implements the UN Agenda 2030. Each year, FFI carries out a survey on its member organisations' climate action in terms of lending, investments, non-life insurance and payments, measured with a set of sustainability indicators.
This year, 85% of the respondent companies said they had integrated climate change considerations into their strategy. This figure was 65% in the previous survey.
"It has been wonderful to see this major shift where climate change has become a high priority in our member companies. The financial sector is all about risk management, and not surprisingly, already 80% of the companies take climate change into account in their risk management. In 2018, 61% of the companies did so", Kauppi says.
Climate-friendly payments on the rise
FFI's indicator survey also covers the climate action of the payments and loss prevention sectors. Although the majority of Finnish payments are already digital, and the use of cash continues to decline with the increasing popularity of card payments, there is still need for even more climate-friendly solutions for invoicing and cash.
According to the survey, the number of electronic invoices sent and received by financial sector companies continued to increase in 2019. Financial sector customers' capacity to receive e-invoices has improved substantially in a short time. Now nearly 80% of all invoices received and 67% of all invoices sent by financial sector companies are already electronic. This is significant as paper invoices have roughly four times the carbon footprint of electronic invoices.
The loss prevention work done by non-life insurers is an important tool in mitigating climate change. Loss prevention means we can prevent the direct climate impact caused by a house fire, for example, as well as the indirect climate impact of reconstruction. A full 80% of the respondent insurance companies said that in addition to the guidelines included with insurance contracts, they provide their household customers with instructions and guidelines on climate change effects and mitigation regarding fire, leak, storm and flood damages. Combined, the non-life insurers who responded to the survey made nearly 19,000 risk assessment visits to their corporate customers in 2019.
The survey was sent to 47 FFI member companies. Most of the companies responded to the survey as a representative of their group. The same respondent can thus represent lending, insurance, investment and fund operations alike. Due to group structures, the respondents cover about 70% of FFI's membership.
Towards the 1.5°C goal
Of the FFI member companies who responded to the survey:
95% take climate change into account in their investments (87% in 2018)
90% take climate change into account in their business operations (lending, funds, payments, insurance) (78% in 2018)
85% have included climate change considerations into their strategy (65% in 2018)
80% have integrated climate change into their own risk management (61% in 2018)
80% reported climate change is discussed at board-level in their group or company (70% in 2018)
70% had set concrete climate goals (48% in 2018).
Still have questions?
|
Contact FFI experts