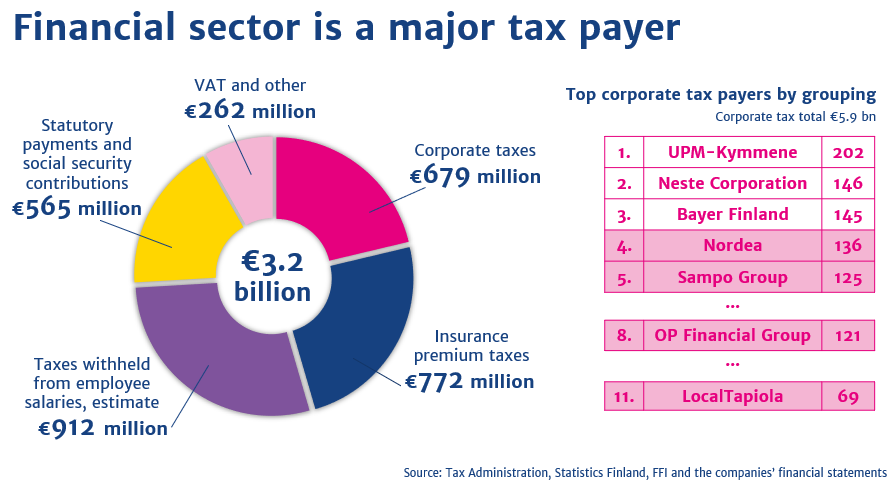 The financial sector was again one of the biggest taxpayers in Finland according to 2018 tax data released by the Tax Administration. The top payers of corporate tax within the sector were Nordea, Sampo Group and OP Financial Group. The combined corporate tax of the sector totalled €679 million, which is €186 million less than the year before, but still 11.4% of all corporate tax paid in Finland.
In addition to corporate tax (€679m) and insurance premium tax (772€), the sector generates income tax, social security contributions and value added tax. Combined, these formed a tax footprint of 3.2 billion euros in 2018. The Finnish sector employs about 45,000 people.
Kauppi: Tax burden should not be increased during weakening economic outlook

"Year after another, the financial sector is one of Finland's largest taxpayers. The sector enables building of well-being in the society. Any occasional claims that the sector is under-taxed are far from the truth", notes Piia-Noora Kauppi, managing director at Finance Finland.
"The sector has an important role in supporting growth, employment and competitiveness. It requires a stable operating environment, which is to say regulation and taxation have to be kept moderate."
"Banks and insurance companies' capacity to finance investments and share risks is essential for Finland to thrive, so we shouldn't throw any wrenches into the works during this weakening economic outlook", Kauppi emphasises.
Overall most corporate tax was paid by UPM-Kymmene, Neste and Bayer. In the fourth place, and first for the financial sector, was Nordea with 135.8 million euros. Following Neste were Sampo Group (€124.9m, 7th in Finland), OP Financial Group (€121.0m, 8th), LocalTapiola (€68.9m, 11th) and Danske Bank (€30.7m, 18th).
We calculated the above numbers by combining each company's figures at parent group level, using data released by the Finnish Tax Administration, Statistics Finland and the companies' financial statements.