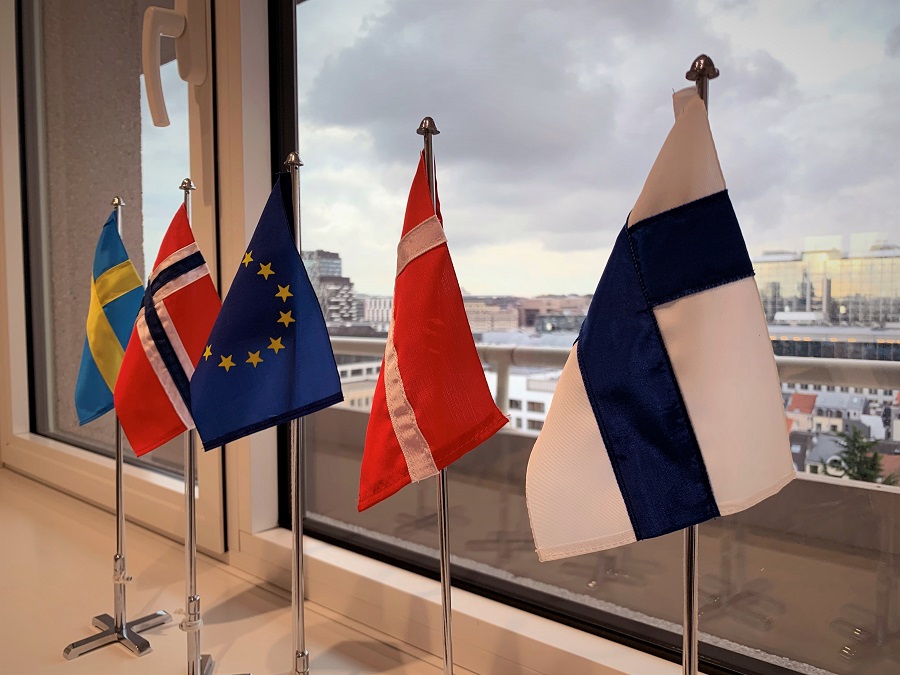 The Nordic financial sectors are concentrating their EU lobbying under the same roof. The recently opened Nordic Finance office is expected to increase the efficiency and effectiveness of the countries' lobbying and cooperation. The new office hosts the banking and securities associations of Denmark, Norway, Sweden and Finland.
"The new shared office gives us better opportunity to hold face-to-face meetings in which we can compare and shape the Nordic countries' views on matters affecting the sectors. It will also be easier for us to organise lobbying events together", says Sinne Backs Conan, the driving force behind setting up the office. Backs Conan is the Executive Director of European Affairs at Finance Denmark.
The idea to set up a shared Nordic office came from Denmark. The Danes have had full-time quarters in Brussels for two decades already. When the time came for them to look for new office space, they decided to ask whether the other Nordic countries wanted to room together.
"The new shared office enables dialogue and networking in an entirely different way and will help us prioritise our mutual lobbying. I'm sure this will give rise to even more ideas for co-operation", says Mari Pekonen-Ranta, director of EU affairs at Finance Finland. "Having more established foothold in Brussels will also be beneficial for representing the interests of insurers and asset managers."
The Nordic capitals shouldn't sit and wait for instructions

"The financial sector's legislative agenda has many areas in which the Nordics have not only a lot of experience but also much to contribute", Backs Conan says, listing the topics that will require the most attention in forthcoming years: sustainable finance, capital markets union, digital services, Basel, and the prevention of money laundering. The Nordic countries are comparatively ahead of the rest of Europe in many of these areas.
"Money laundering is an example of a phenomenon under regulatory focus that we unfortunately have some first-hand experience of. This experience we must put on table in Brussels when regulation is being developed. We mustn't merely wait for Brussels to tell us what to do."
Backs Conan characterises the Nordic countries' attitude towards sustainable finance as fundamentally positive. "Politicians are looking for ideological support for sustainable finance as we speak. We can give the lawmakers a nudge forward and also something to lean on."
Who can you meet at the new office?
The Danish associations have two permanent representatives in Brussels. Backs Conan herself works there most days of the week. Instead of stationing any full-time representatives, the Finnish financial sector will utilise the office as needed during lobbying trips to Brussels. FFI also has one part-time employee who resides in Brussels. In practice this means that the office will see FFI employees several times a week.
Norway and Sweden are currently refining their plans on how they will staff the shared office.
Sinne Backs Conan, who carried main responsibility for setting up the shared office, did not hide her enthusiasm once the office was finally launched. "I hope I will get to see my Nordic colleagues a lot more in the future. You are looking at one happy EU affairs director!" she laughs.
Still have questions?
|
Contact FFI experts