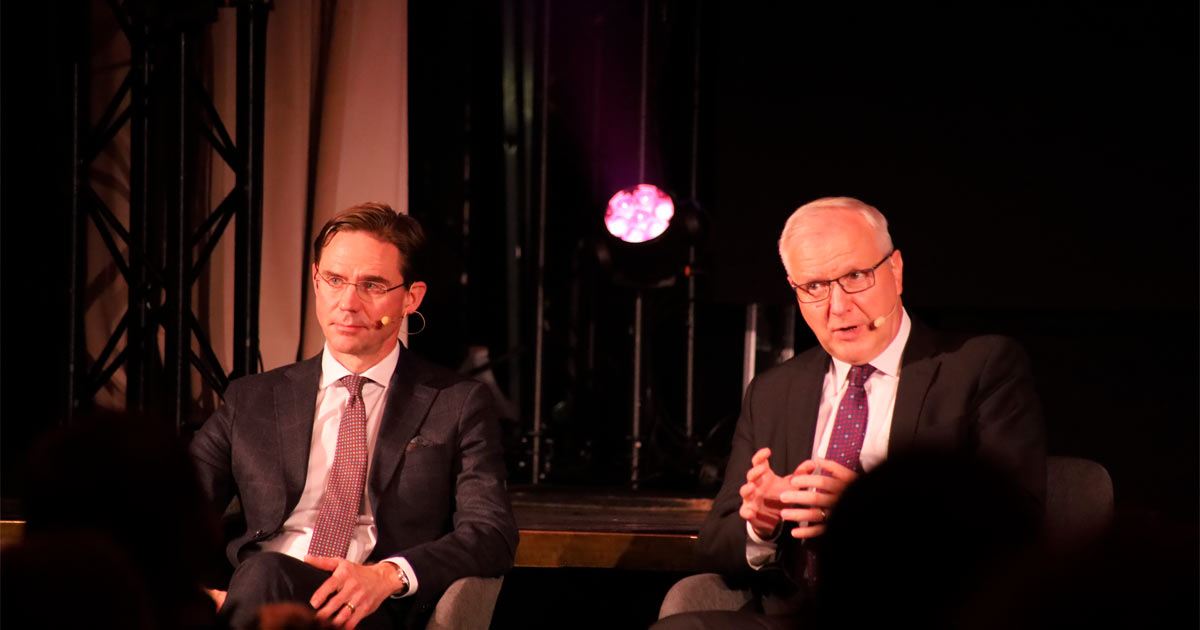 Former European Commissioners Jyrki Katainen and Olli Rehn joined Finance Finland's evening event to discuss the EU's future.
The evening's topics included the development of EU's rule of law and the prevention of climate change.
Both Katainen and Rehn agreed that the financial sector has a key role in combating climate change.
Katainen also brought up the alarming, accelerating loss of biodiversity.
The theme of the Financial Evening on 8 November was the European Union. Participants included Rehn, Katainen, Jutta Urpilainen, Atte Harjanne, Sakari Puisto, Ida-Maria Skytte, Emilia Kullas, Anu Bradford, Timo Ritakallio and Piia-Noora Kauppi.
The discussion with Rehn and Katainen focused on sustainable finance and the question on everyone's mind: can climate change be prevented with money?
Rehn said the best way to tackle the climate crisis would be the global carbon tax recommended by Nobel laureates and economists, which would encourage productive investment and sustainable development.
"There is no way to agree on this politically, however. International commitments and agreements are the next best way. They will be the foundation for national and regional measures such as emission trading."
In addition to various governmental agreements, the financial sector has also made commitments on sustainable development. These include a commitment to report on measures taken to mitigate climate change.
Loss of biodiversity will be our next major crisis
Katainen emphasised that the market economy is a key element of climate change and that the most important catalyst for making a market economy climate-friendly is the financial sector.
"Under what terms or conditions funding is provided carries great weight. Financial markets have already done much to combat climate change. The next climate-related challenge which requires market assistance is the loss of biodiversity. In five years, it will be as big politically as climate change is now. I hope that the market and consumers can be engaged in this issue", Katainen said.
Katainen and Rehn also expressed concern about the rule of law in the EU.
Katainen does not agree with the notion that the rule of law is being eroded. However, he does not think it should be taken for granted either: in addition to the extreme cases of Poland and Hungary, there are also other worrying examples among EU Member States.
"If the rule of law crumbles, so will the European Union."
Urpilainen: Digitalisation and the green transition change everyone's daily lives
Before the discussion with Katainen and Rehn, the audience was presented a video greeting from Jutta Urpilainen, the current European Commissioner for International Partnerships. In her speech, Urpilainen emphasised the way digitalisation and green transition are changing day-to-day business, economic structure, livelihoods and entire lifestyles of Europeans.
"The EU wants to be a pioneer in building new sustainable growth. The EU's partner countries are facing the same challenges as Europe, and the EU is focusing on human development in the partner countries. "
A recording of the discussion is available here (in Finnish).