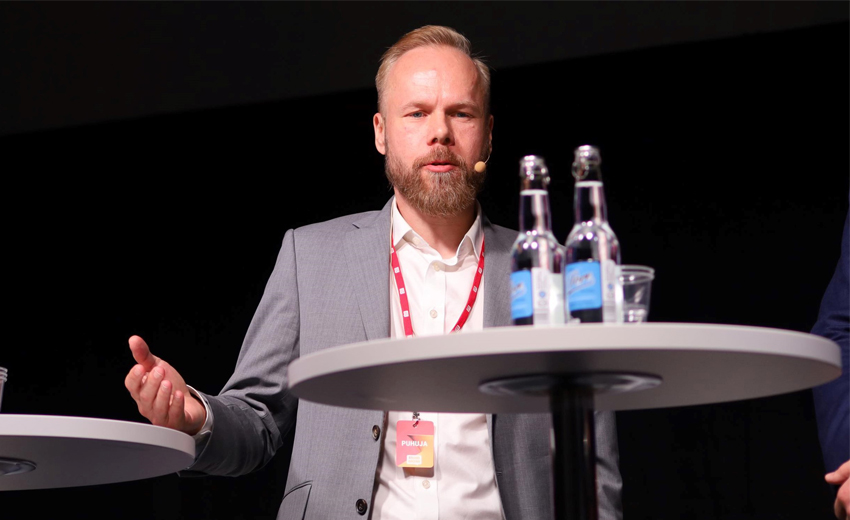 ​Finance Finland's latest mini-seminar was arranged as an online only event due to the coronavirus situation. FFI invited Aleksi Grym from the Bank of Finland to discuss central bank digital currencies, and Hanna Heiskanen from the Finnish Financial Supervisory Authority to discuss virtual currencies.
The use of cash has been continually diminishing, but has plummeted especially now during the coronavirus pandemic, when most people are working from home and using digital services. Does this call for the implementation of a central bank digital currency? Aleksi Grym, head of digitalisation at Bank of Finland thinks this a relevant question to ask, although only with long-term perspective.
Central bank digital currencies still in an early stage
Most money transfers are already electronic. A state-run digital currency would closely resemble a payment card or a payment app. "Private-sector operators are handling payments quite well. Do we have a reason to go poke around in the market?" Grym asks.
The use of cash is often defended by saying we need a state-run payment method in times of crisis. This same argument is now used to push for a central bank digital currency.
"We can never predict all the required solutions to crises beforehand. For example, with the coronavirus, handling cash is suddenly not a good choice at all. Since crises can take many different forms, we should have multiple options well prepared in advance", Grym says.
Grym notes, however, that no country is planning to implement central digital currencies in the near future, because there are still many issues to consider.
"What about monetary policy? How would multiple payment systems affect fiscal stimuli? Or fair competition and the equal availability of services? How would the change show in consumers' payment preferences?"
Investments to virtual currencies come with very little protection
Hanna Heiskanen, senior advisor in digitalisation, fintech and policy at the Finnish Financial Supervisory Authority (FIN-FSA), also remotely attended the seminar to discuss virtual currencies. In her view, virtual currencies are primarily not a means of payment, but an investment target, and a very high-risk one at that. The lack of transparency and investor protection is problematic in comparison to other investment options.
EU regulation was recently introduced for virtual currencies, but it mainly concerns the prevention of money laundering. Heiskanen says that compared to for example funds or equities, investments to virtual currencies are in a much worse situation if something goes wrong.
"Funds and equities have very detailed information requirements and carefully regulated investor protection. With virtual currencies, nobody is responsible for price formation, for example. Their custody also requires significant technical skill."
Investors nevertheless interested in virtual currencies should read the website of the financial supervisory authority of the country their service provider resides in. "For example FIN FSA currently lists five approved virtual currency providers. The warning list of companies you should steer clear of is much longer", Heiskanen points out.
The actual market of virtual currencies is still relatively small given the amount of discussion on them. No official data exists, but the entire global virtual currency market is generally estimated to be below 200 million US dollars. "The size of one fairly large international listed company", Heiskanen remarks.
"Invest quickly to get rich!"
Virtual currencies often come up in the context of investment fraud. Banks report investment fraud as the fastest growing type of fraud.
"Criminals advertise massive profits that could be attained by investing in this specific virtual currency – which can be real or completely made up. And you're told there's a chance only if you act quicky", Heiskanen observes. "The offer is advertised with impressive-looking growth graphs and small initial investments."
According to Heiskanen, the fraudsters take advantage of the reputation of virtual currencies, as the media likes to tell stories of people striking rich with them. "There are more stories of losses and victims of fraud, but they don't get as much coverage", Heiskanen concludes.