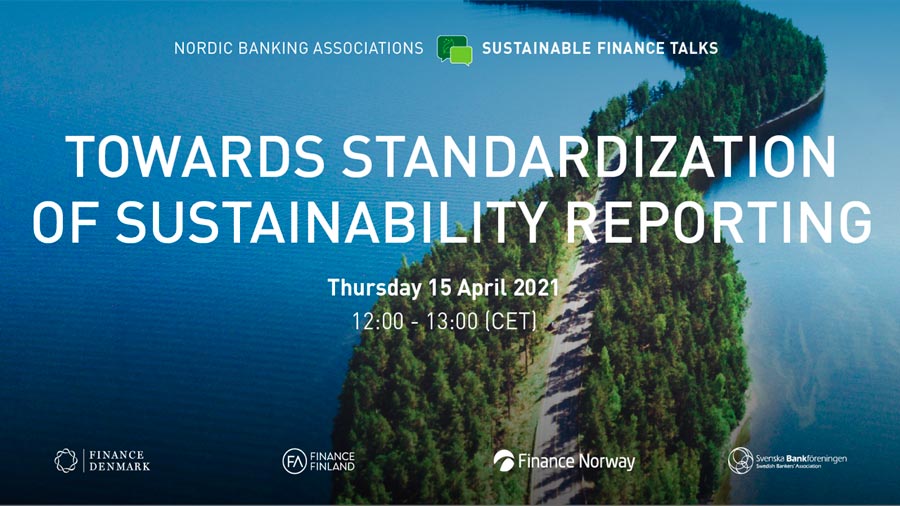 The Nordic banking associations are organising a webinar on the standardisation and development needs of sustainability reporting.
The webinar will be held in English on 15 April, 12–13 CET.
Sustainability data and reporting are key to transparency about sustainability. They are also a  prerequisite for making sure that the EU taxonomy can be used in practice and that sustainable finance underpins the right companies and projects. One important step in addressing the sustainability data gap is the EU's move towards more harmonised sustainability reporting.
The EU is on the move towards more harmonised sustainability reporting. This webinar addresses questions such as:
What are the priorities in the upcoming non-financial reporting review?
What is lacking in sustainability reporting today?
Why is reporting so important for the financial companies and sustainable investments?
What are the opportunities and challenges of increased reporting for the companies?
How do we ensure that reporting is effective and purposeful?
Programme
Keynote speech by MEP Ville Niinistö (Greens). Mr Niinistö will also participate in the panel.
Panel debate
Moderated by Kristiina Vares-Wartiovaara, Head of ESG at OP Asset Management and a member of EFRAG's Project Task Force on Non-Financial Reporting Standards
Panellists:

Sean Kidney, CEO of Climate Bonds Initiative, member of the EU's Sustainable Finance Platform.
Rebekah Smith, Deputy Director of the Social Affairs department in Business Europe
Finance Finland, Finance Denmark, Finance Norway and the Swedish Bankers' Association are organising a series of virtual 'Sustainable Finance Talks' which will focus on key political topics on the sustainable finance agenda in 2021. The first webinar this February focused on the future and upcoming Commission strategy on sustainable finance. The following webinars will discuss further development of the EU Taxonomy as well as sustainability risks and their relation to other financial risks.
Still have questions?
|
Contact FFI experts