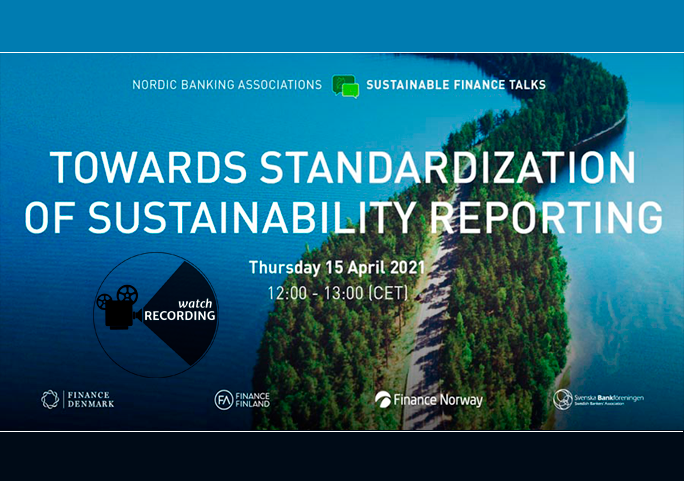 Finance Finland endorses sustainability metrics and classifications based on scientific research.
It is important to clearly define standards on what financial and investment products are environmentally sustainable and by which criteria they can be labelled sustainable.
This topic was discussed in FFI's webinar on 15 April. A link to the recording of the webinar is available at the end of this article.
The webinar was opened by MEP Ville Niinistö, who emphasised the importance of sustainability reporting in mitigating climate change.
"We have the Paris Agreement, in addition to which the EU and the countries, companies, and even individual citizens set their own climate goals. As long as the rules are unclear on what data is collected, there's no way to calculate what actions are enough to reach these goals."
At the heart of European Union's climate goals are the EU Taxonomy – the classification of sustainable economic activities – and the sustainability reporting requirements for investors. According to Niinistö, these two elements will be lacklustre unless the EU establishes a credible sustainability reporting framework that covers all businesses and produces comparable data.
The classification system and reporting obligations will require heavy effort from the financial sector, the authorities, and other industries alike. If successful, a common set of definitions will facilitate investment and make it genuinely more sustainable.
Niinistö's keynote speech was followed by a panel discussion moderated by Kristiina Vares-Wartiovaara, Head of ESG at OP Asset Management.
The panellists brought up the issue of EU companies' competitiveness compared to businesses outside of the scope of EU regulation. CEO of Climate Bonds Initiative Sean Kidney said he was convinced the EU can set an appealing example for other countries and economies.
"When the EU is able to solve how profitable business can be combined with ESG goals, the rest of the world will follow the example. This will create a competitive edge for EU companies."
Rebekah Smith, Deputy Director of the Social Affairs department in Business Europe, expressed concern over how a uniform reporting model can be objectively adapted in different business models and companies. The panellists agreed that especially the limited resources of smaller companies should be considered in the preparation of an EU-wide standard.
FFI organised a webinar on the standardisation of sustainability reporting on 15 April as part of the Nordic banking associations' Sustainable Finance Talks series.
The next part in the webinar series will be organised in May and will focus on the social dimension of investments – the letter 'S' in ESG.
Still have questions?
|
Contact FFI experts