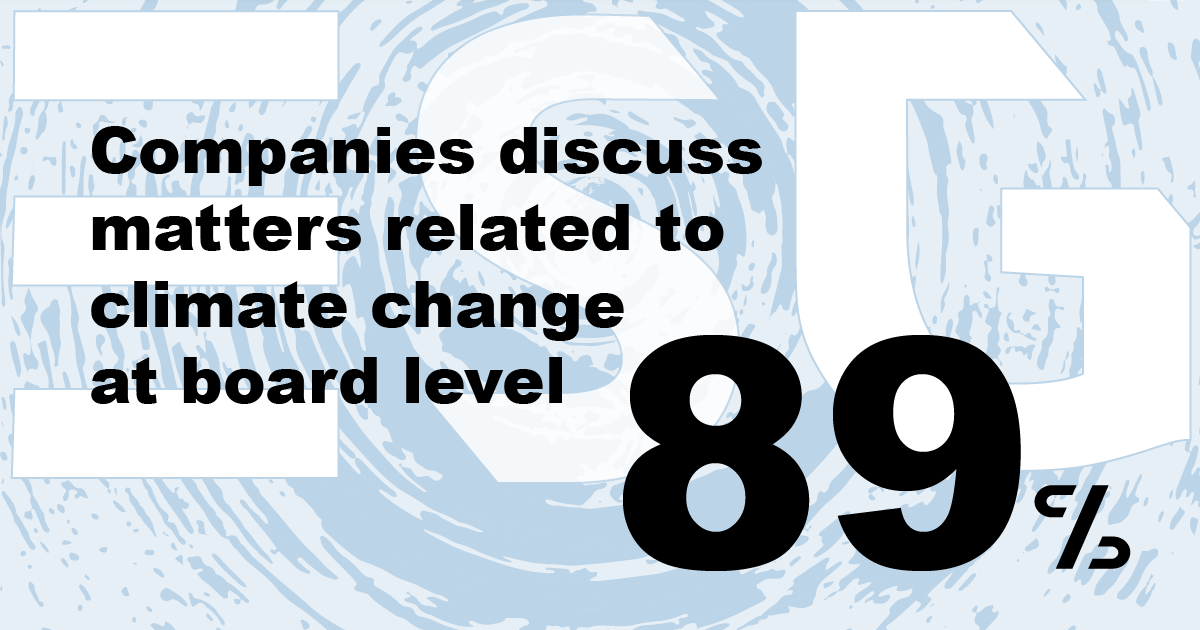 Awareness of climate change risks has increased in the financial sector.
Year after year, this shows as good results in surveys measuring the sector's climate action.
The climate work of Finnish financial sector companies is tracked through an annual climate indicator survey. The survey has been running since 2018.
"The Finnish financial sector understands its role not only as a source of financing for other sectors but also as a major investor and provider of climate risk insurance. We can make a big difference if we harness capital to promote a future that is environmentally sustainable", says Finance Finland's (FFI) Deputy Managing Director Esko Kivisaari.
The survey results show that the respondent companies take climate change comprehensively into account in their business. For example, all of the 19 member companies responding to the survey said they take climate change into account in their investments. In addition, 84% of the companies take climate change into account in their business operations such as lending, funds, payments and insurance.
Claims arising from climate change also pose significant financial risks, which has made insurance companies more and more invested in the matter. Insurers are required to include certain guidelines with the insurance policy. In addition to these, all non-life insurers said they provide their household customers also with guidelines regarding the mitigation of climate change and its impacts when the customer takes out a fire or leakage cover policy. The majority of non-life insurers also said they provide such information regarding the prevention of storm and flood damages.
Kivisaari commends the companies for going beyond words in their climate action. "I consider it especially important that companies acknowledge climate-related issues on a practical level in their business operations. This reflects how climate change is increasingly regarded also as a financial risk."
The latest survey results also indicate the sector has grown more self-critical. There is room for improvement in how concrete goals the companies set for the prevention of climate change, for example.
"It is possible that the rising standards and amount of regulation have increased healthy self-criticism in the sector. It is not enough to discuss climate change – the need for concrete goals and actions has become more prominent, and companies need to be able to show their climate work bears results", Kivisaari notes.
The financial sector also closely monitors climate action in the payments sector. The majority of Finnish payments are already digital, and the use of e-invoicing is growing each year. E-invoicing drastically reduces emissions compared to traditional paper invoicing.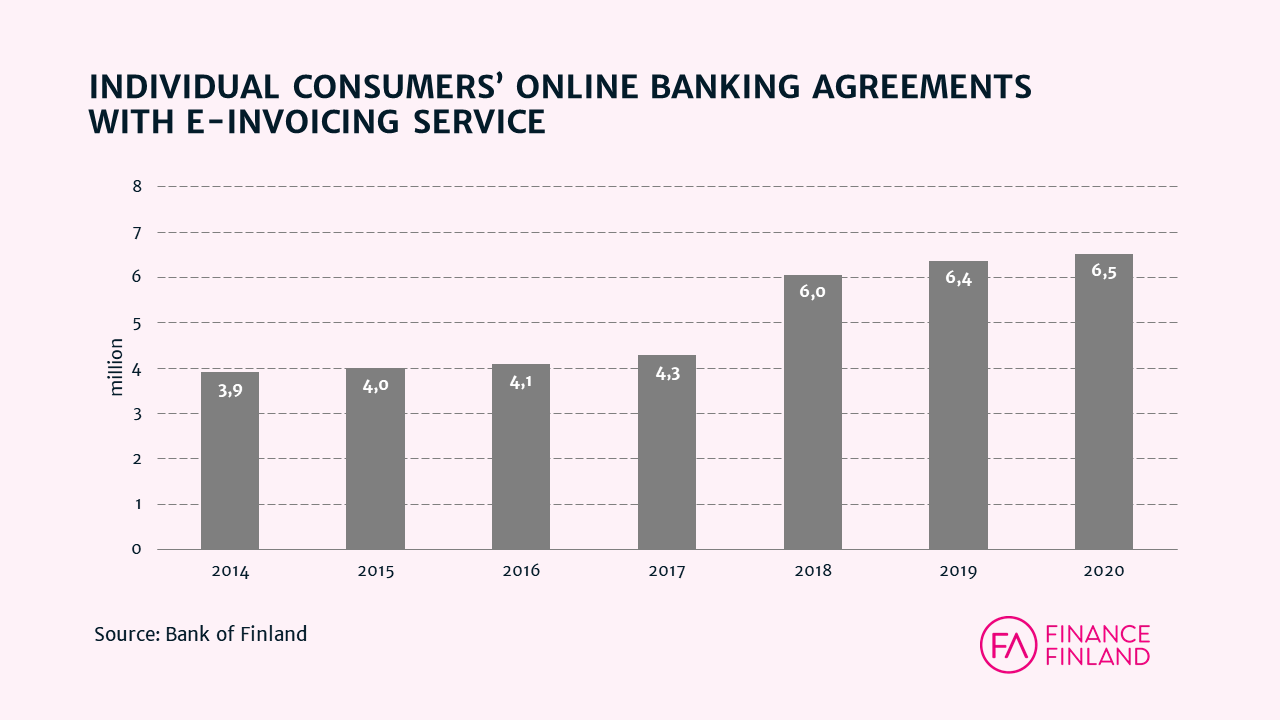 Financial sector companies operating in Finland are also involved in numerous international collaborative initiatives and commitments.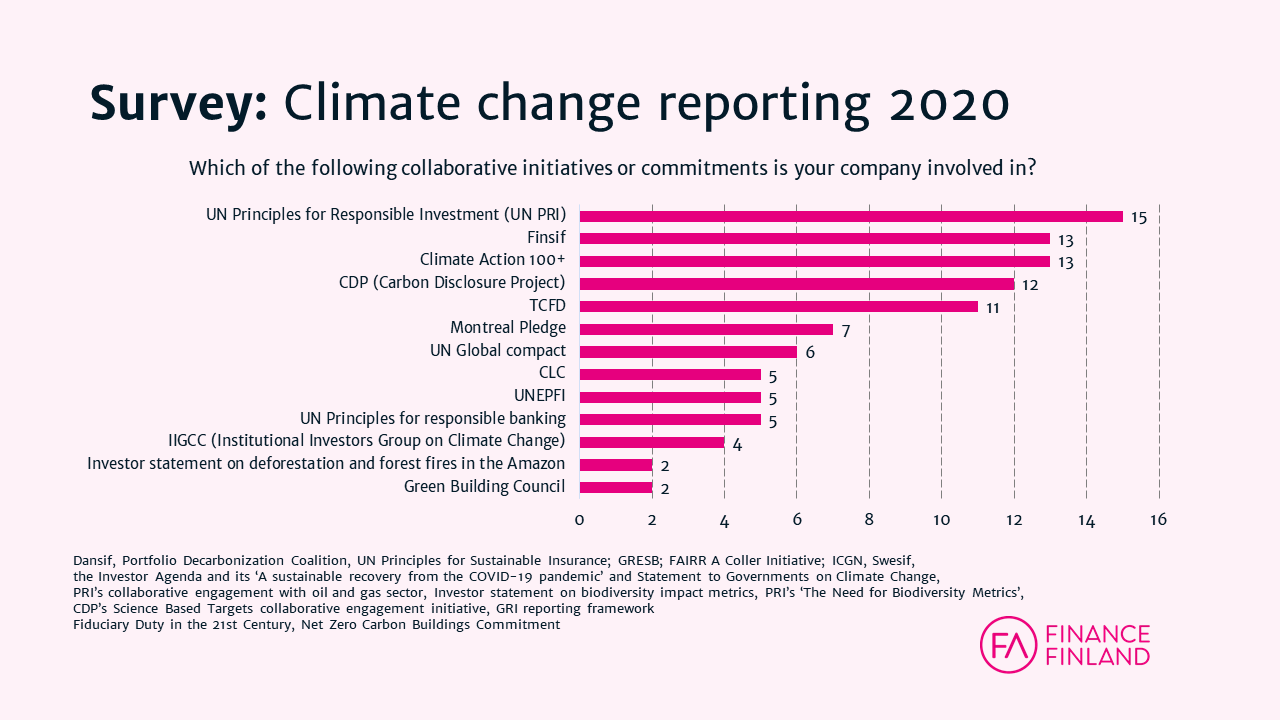 Towards the 1.5°C goal
100% of the member companies who responded to the survey take climate change into account in their investments.
84% of the member companies take climate change into account in their business operations (lending, funds, payments, insurance).
79% of the member companies have integrated climate change into their own risk management.
89% of the member companies reported climate change is discussed at board-level in their group or company
63% of the member companies had set concrete climate goals
Still have questions?
|
Contact FFI experts